Just a drop in the ocean
Tale of an Atlantic crossing from a sailboat-hitchhiker
2023
« Land ahoy ! », shouts Pierre, perched atop the mast while scanning the horizon. Suddenly, the first landscape is appearing for us to behold after weeks at sea. The shapes of the island get clearer as we draw closer, and at the same time grows the glorious feeling of a dream entering the final stage of its realization. We've sailed across the Atlantic!
On December 30, 2022, we set sail from the Old-Port of Marseille. After nearly three months and more than 5000 nautical miles, our salt-water adventure saw us reach the island of Martinique, a French territory in the southern Caribbean. This is the tale of a wind- and will-powered voyage across the Mediterranean Sea and the Atlantic Ocean, from Europe to Africa and all the way to the American continent.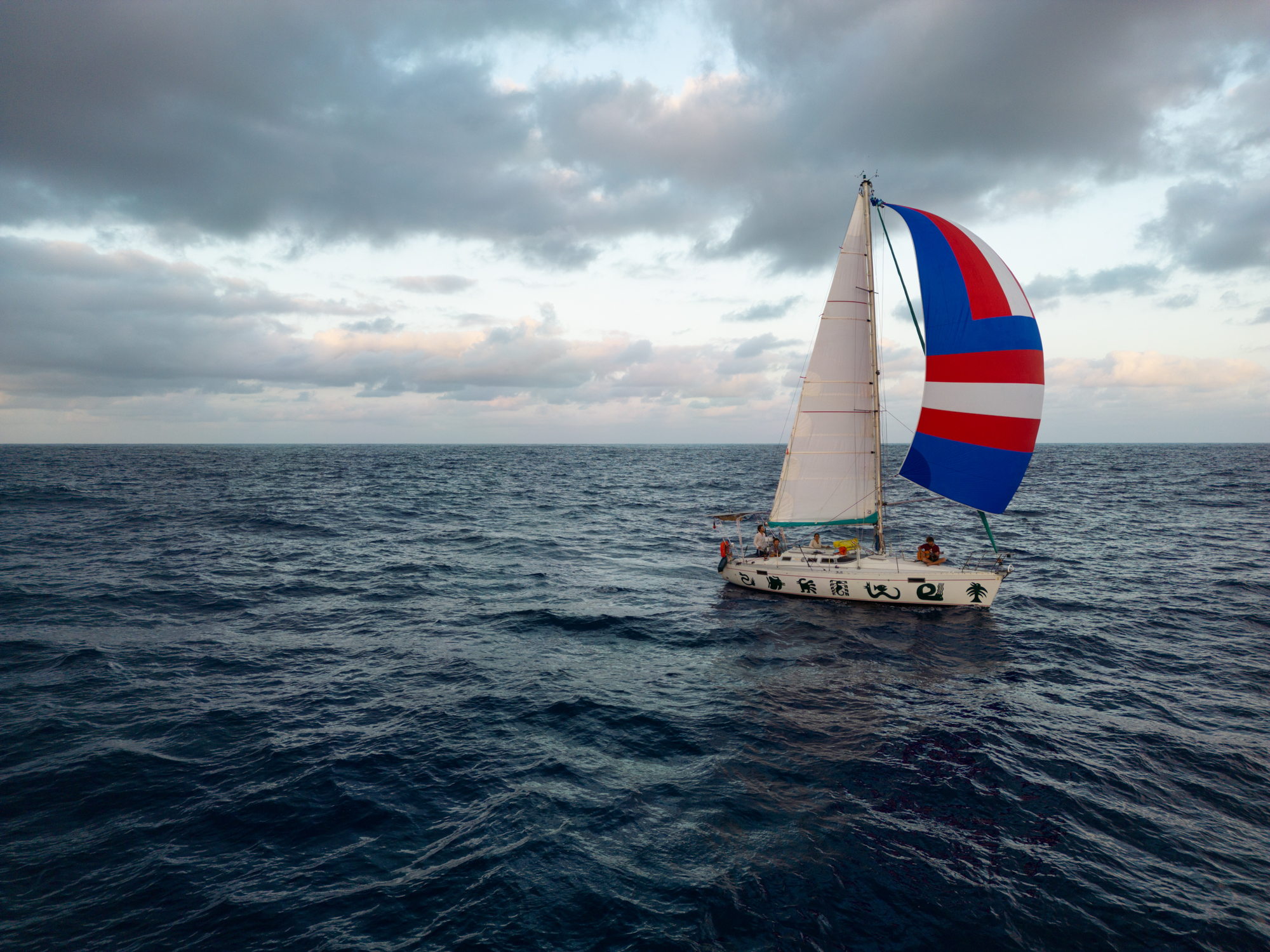 Let's go back in time a few months. Hoping to reach Latin America in an adventurous and eco-friendly manner, I decided to learn the ropes of sailing and look for a boat to hitch a ride across the mighty Atlantic Ocean. To begin, I took a two-week sailing course in Brittany to learn the basics, determine whether seasickness would be a problem and to ensure that I would enjoy spending a few months on a boat. The course went well and I posted an ad describing my project on a Facebook group. Shortly after, the owners of a 33-foot monohull sailboat, planning to cross the Atlantic from France to the Caribbean, reached out as they were looking for an extra crewmember. Damien, Charlotte and Pierre, two doctors and a physiotherapist in their early thirties, invited me for a short trip on their boat from Corsica to Marseille to assess my skills and motivation. Most likely, it was to ensure that I was not, in fact, a serial killer. It turned out I was merely a serial hitchhiker and we all got along well. The unusual job interview bore fruit: I was hired as a crew member, cook and photographer for the expedition! The team, now complete, was ready to set sail for the adventure of a lifetime.
Now, looking back from the other side of the ocean, I can tell how lucky we are to have experienced such a journey. We witnessed the ocean in its myriad of states. We saw playful dolphins swimming and jumping near the vessel's bow, the odd seabird curiously flying around, countless flying fish leaping into the air, luminous plankton lighting up the ship's wake at night. The stars gently dancing across the sky and the sun adorning the horizon with its rich diversity of colors at dawn and dusk.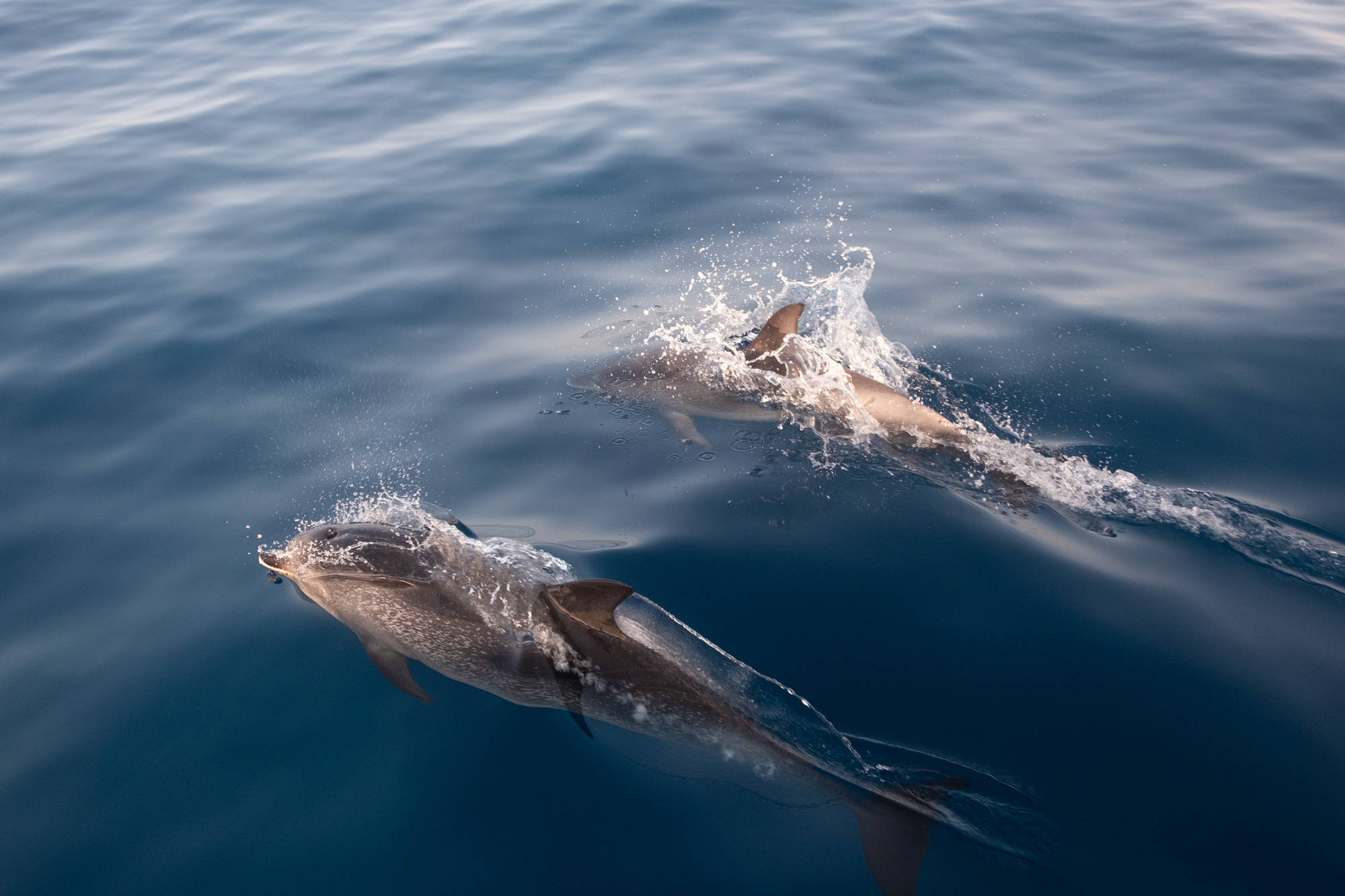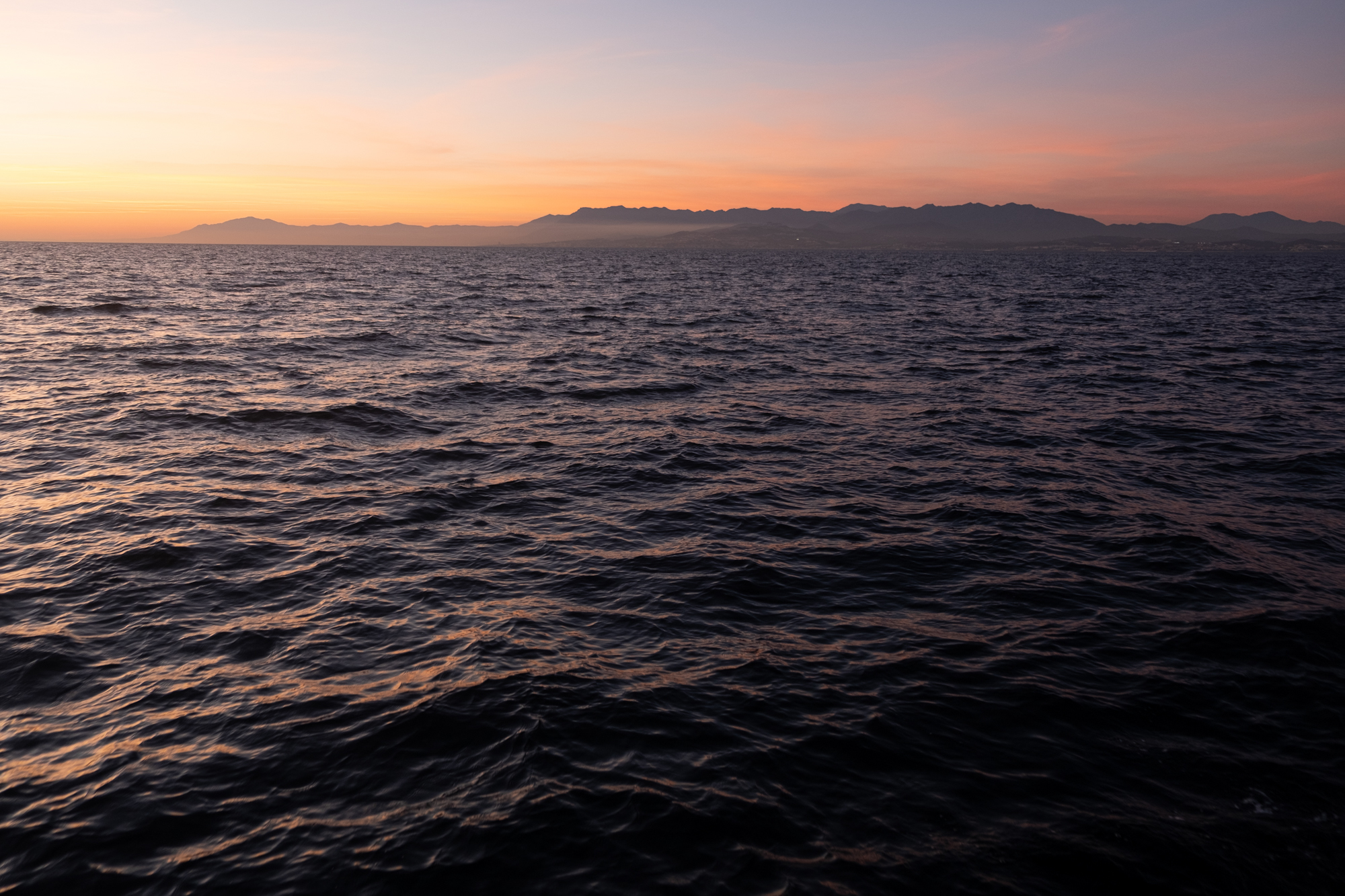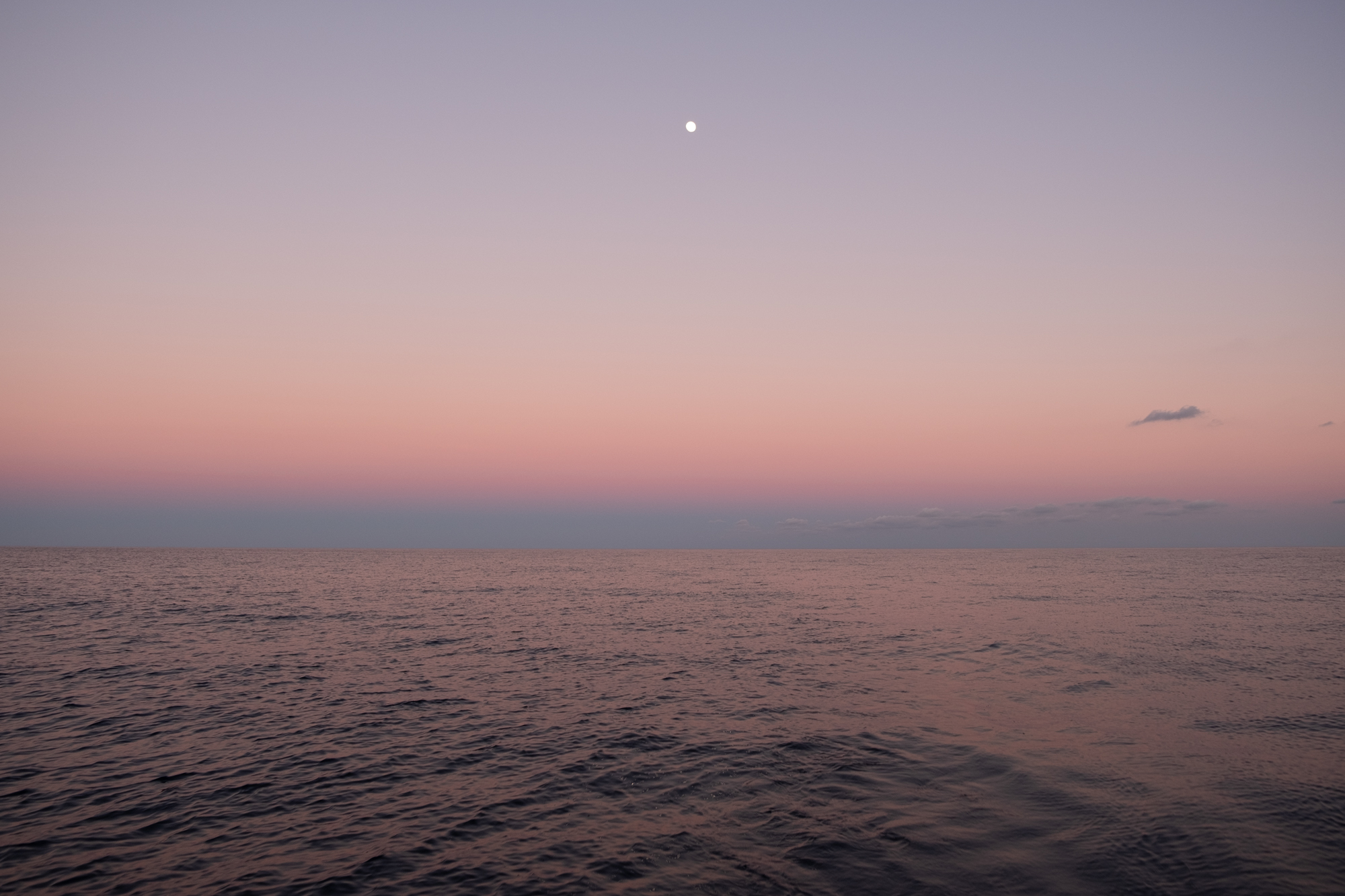 The stops along the way were just as diverse, with regards to their cultures and their climates: Majorca, mainland Spain, Gibraltar, Ceuta, Morocco, the Canary Islands and Cabo Verde. Each time, we enjoyed a fresh taste of the simple pleasures of life on land. How delightful to feel your feet touch the ground! Then you remember there's an ocean left to cross, and it's time to set sail again. Slowly turning our backs on the European winter, the temperatures continued to rise as we moved south.
While it's easy to remember incredible sunsets, such a journey is not without its challenges.
To start, you have to get used to the never-ending movements of the boat. The weather sometimes gets rough and it is important to maintain a cool head. In the beginning, I felt seasick but over time, the unease in my stomach dissipated. At last, I had found my sea legs. During longer crossings, all you can do is mourn your own movements given the limited space available to stretch your legs on such a small vessel. Time and again, however, humans adapt to their environment.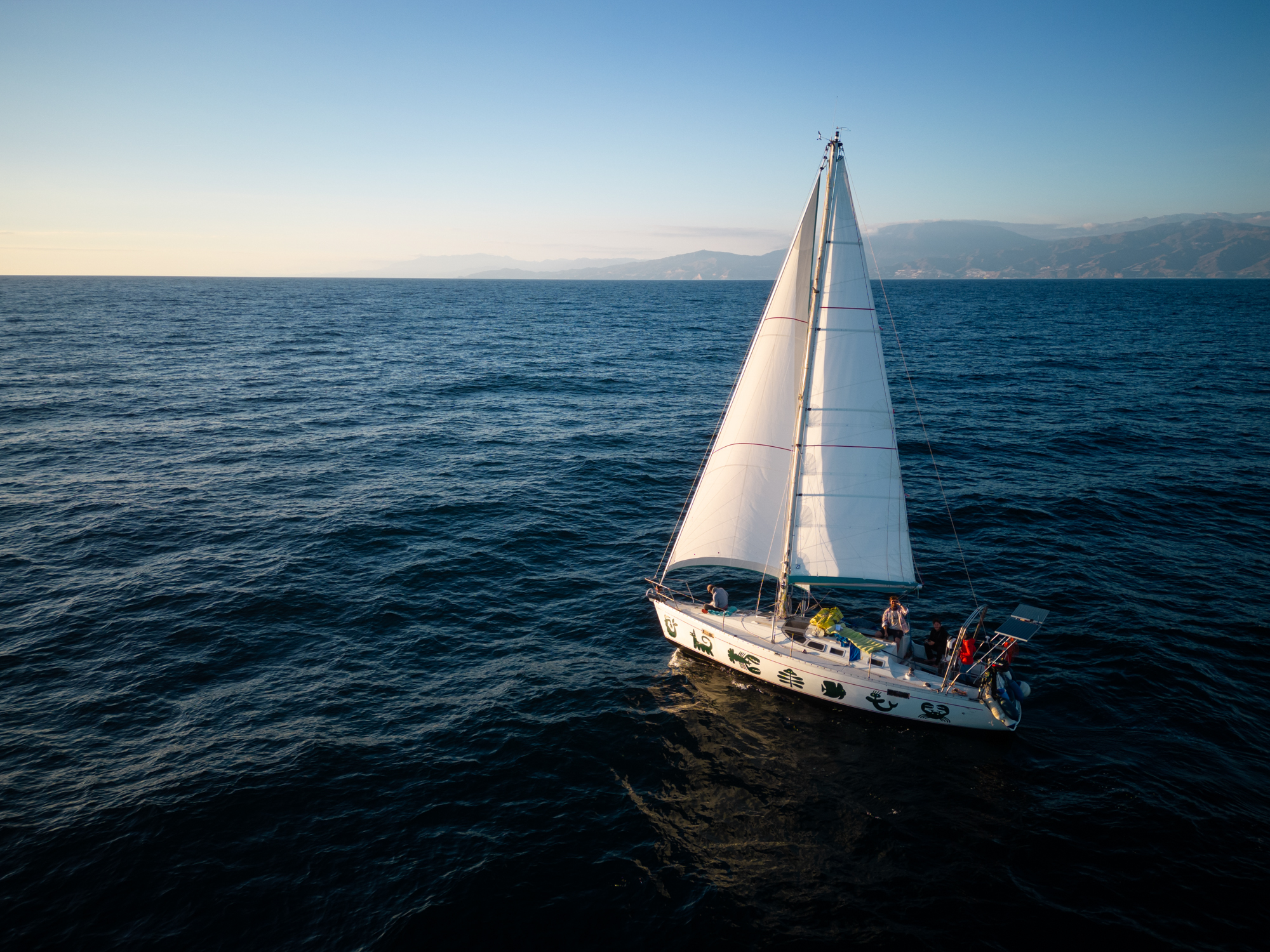 There are times that require great patience. For instance, when crossing the Mediterranean Sea and the wind won't blow, or while waiting for a weather window to cross the capricious Gibraltar strait. In the company of the Moroccan customs who turn out to be just as capricious as the famous strait. Would travelling still be travelling if everything always went according to plan? When venturing into the mountains or the ocean, you are at the mercy of the elements.
You also have to get used to fragmented sleep. When sailing out into the open sea, someone usually stands watch around the clock to prevent collisions and to adjust the sails if needed. The night is split in shifts of roughly three hours. Taking turns, you end up alone steering the boat under the stars in moments well suited for introspection.
It is essential to stay creative. To repair unforeseen damage on the boat, which seems inevitable during long voyages. To develop new recipes to feed and boost the morale of the crew. To pass the time and stay busy during long crossings : reading, writing, recording sounds and images, drawing, learning Spanish, playing music, fishing, cooking, swimming while tied with a rope to the back of the boat in about 5000 meters water depth… Everyone on board follows their own sensibilities.
As for me, my usual traveling companions remained faithful: books for inspiration and ideas, a notebook to write my own, my guitar and my camera. About the latter, it wasn't easy to photograph in such a confined space! Normally, on land, you have plenty of room to move around, work your scene and organize the elements in the viewfinder so that harmony washes over the seeming chaos of reality, just for a fraction of a second. On the boat, you often have to crouch down or contort yourself to get the shot. One thing's for sure, I will never get tired of silhouettes at dusk. Determined to experiment beyond the still image, I also tried to film throughout the journey and I hope to edit a short documentary when I'm back home.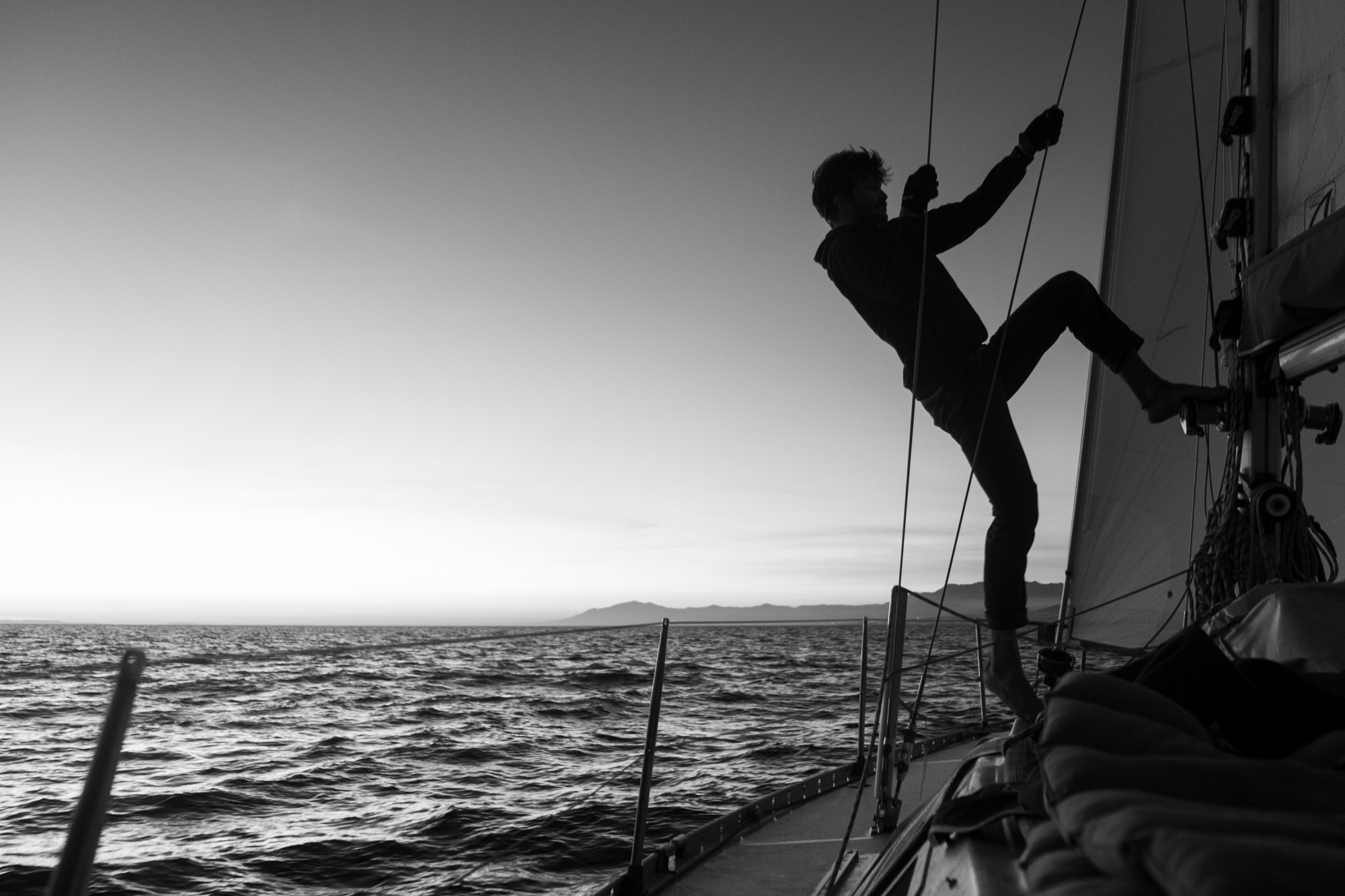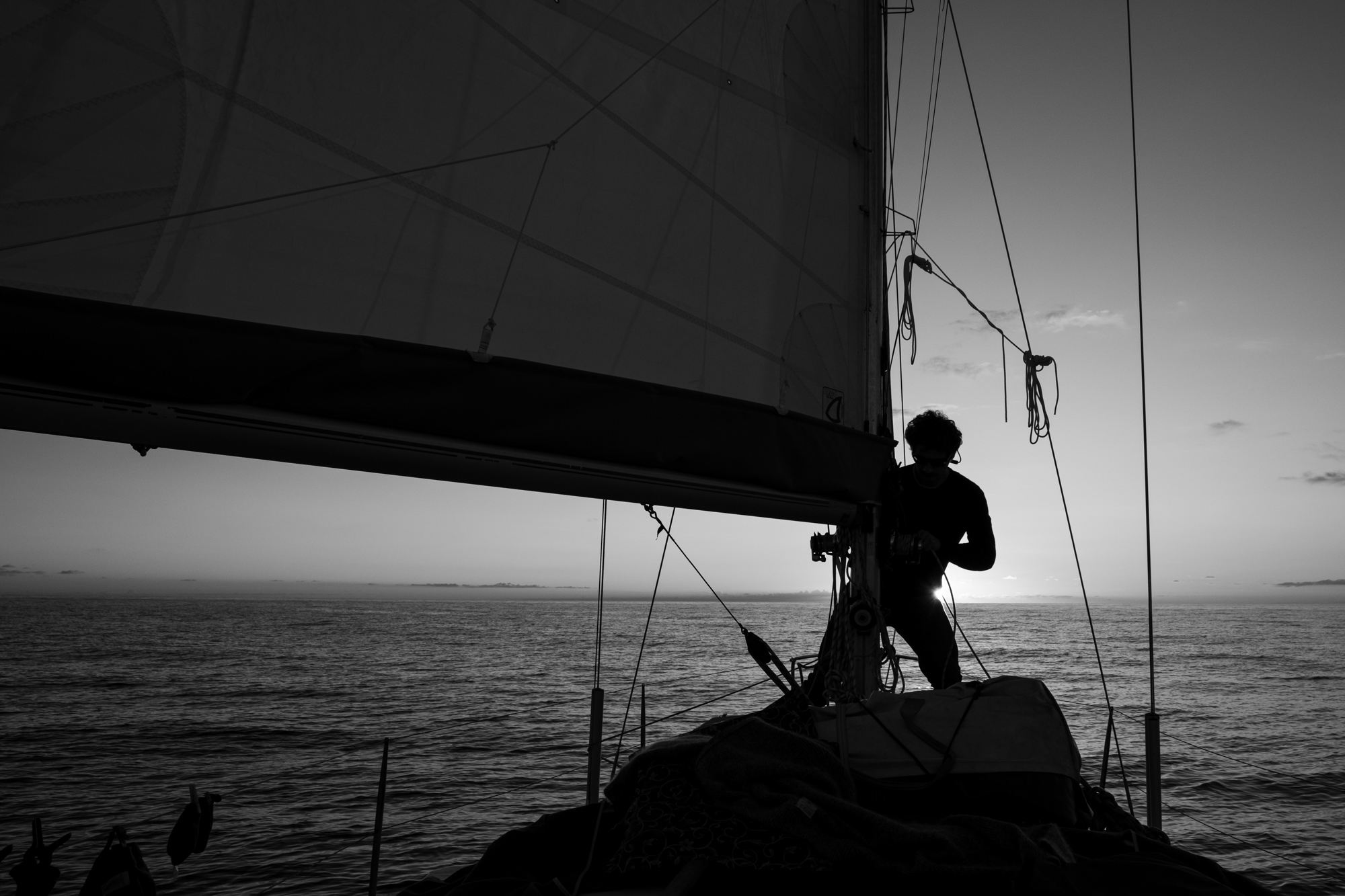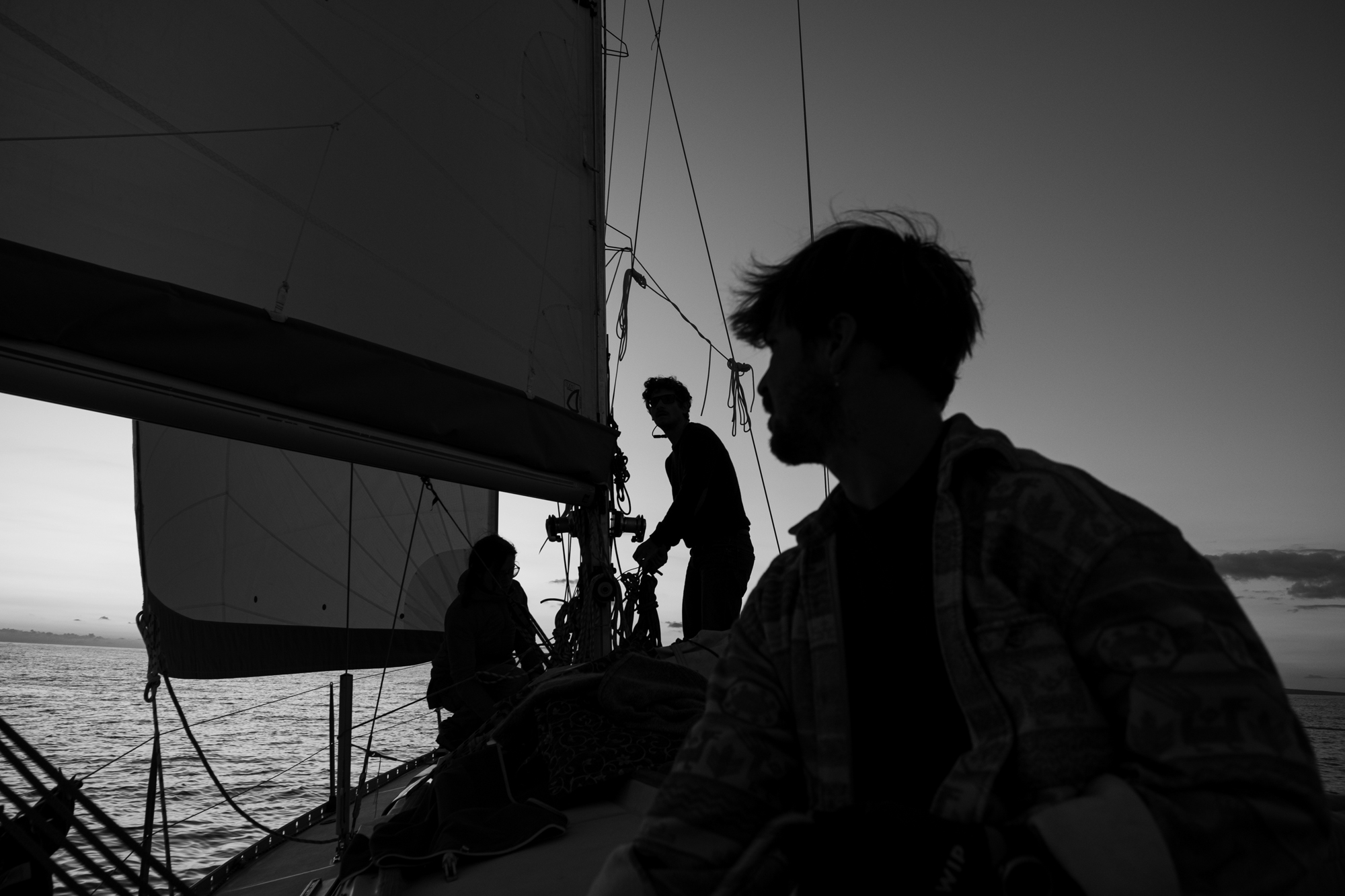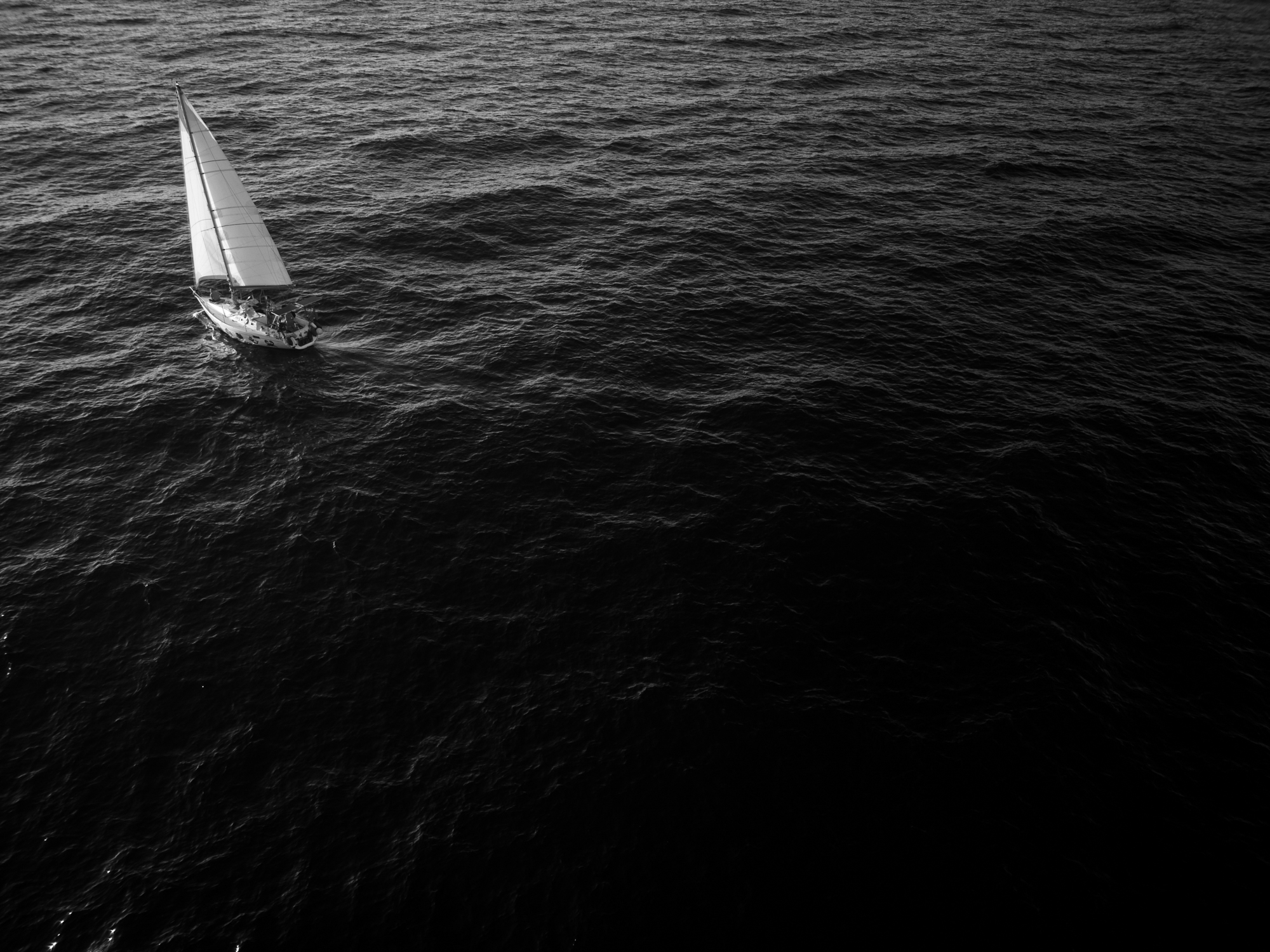 Of all the challenges, the biggest one was the human factor. How often do you find yourself confined as a group of four adults in such a tiny space for three months straight? That being said, a good dose of humor, empathy and communication goes a long way in ensuring no one ends up overboard. A beautiful human adventure, after all.
The final leg of the journey, between Cabo Verde and Martinique, was also the longest. Twenty-one days out in the open sea without seeing land and without contact with the rest of the world. This was a great opportunity to experience a true disconnection and felt like a welcome break from our constantly connected lives.
It's sometimes hard to resist the temptation to have yet another look at the GPS, even if you know just too well that there are several thousand miles left to go and our average speed doesn't exceed 5 or 6 knots. With that in mind, you no longer think in terms of hours. Those are swiftly replaced by days and weeks as the units of your new temporal reference system. Embracing such slowness is not necessarily an easy matter. Your mind races and wanders, torn between memories and future projections. Sometimes, you try channeling your thoughts by reading straight through one book, by listening to music or to podcasts. Over time, however, you slowly learn to unwind and take a deep breath. Step by step, you give up about the figures and forget that you once felt rushed. Watching the swell break, feeling the soft breeze blowing on your face. Carefully listening to the soothing sounds of the boat as she steadily makes her way across the ocean. Here you are, finally enjoying the unique and timeless beauty of the present moment.
Can you think of a better means of transportation than sailing or cycling to combine passion for travelling, thirst for freedom and adventure, and environmental commitment? An invitation to soft mobility is taking shape, swimming against the tide of our societies thirsty for speed and productivity. In the meantime, you catch a glimpse of a fascinating natural environment harboring incredible biodiversity and playing a crucial role in the climate balance of our planet. Polluted oceans, just like smothered primary forests, are desperately lacking adequate protection. Aspiring to greater consistency between words and actions, it was dear to my heart to start this new journey towards Latin America by minimizing my own carbon footprint. And yet, beginner sailors like us are not fooling ourselves and remain conscious of the environmental limits of recreational sailing and of the elitist dimension of such a social practice. Not a panacea, just a drop in the ocean.
Thank you ever so much Damien, Charlotte and Pierre for letting me join your boat to fulfill this transatlantic dream. Fair winds to you! As for myself, it's time for a short break on land before finally setting off to South America… The rest of the story has yet to be written!
Yann Lenzen
Traveler and documentary photographer